The past year has seen the rise and fall of conventional demand with the prevailing global pandemic. 2021, on the other hand, has presented an opportunity for restructuring.
The organizations able to pivot their services to meet new demand parameters have stayed afloat with lockdowns and closing of brick and mortar stores.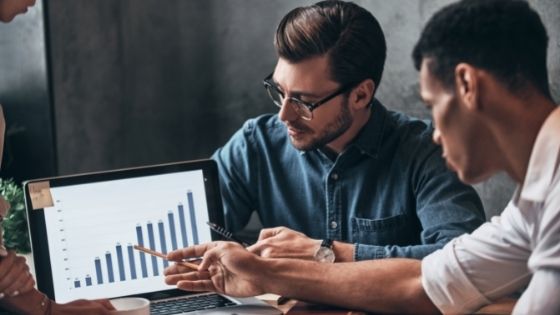 With a growing number of businesses moving digital, the strain of the physical sales reaches some degree of balance. If an organization is truly looking to succeed, they are looking at what the customer needs and adjusting both supply and strategy accordingly.
A successful way to understand how to introduce better practices is through understanding the data that surrounds the transaction. Data analytics is quickly becoming an integral part of the day to day business activities.
Organizations that are not looking to keep a team internally often outsource data analytics services to data analytics consulting companies that specialize in the field.
Here are the top 5 data analytics trends that your business should be incorporating;
1) The Shift To The Cloud
A lot of businesses presume the cloud is only used for transactional purposes and would be unable to host large scale analytics needed for data analysis. This is incorrect.
Cloud technology has grown and developed exponentially over the past decade and is now able to host data warehouses virtually. This includes companies like Amazon, Microsoft and Google.
Additionally, cloud computing can now include homomorphic encryption. This allows for data to be analysed without decryption keeping security tight. Additionally this removes the need for the user of the decryption key to sit at a distance from the personnel conducting the data analysis.
Today's cloud based data management offers an option to decide what information can comfortably be migrated and what needs to remain on a physical server.
End to end data warehousing solutions allow businesses to reap the benefits of data analytics making the organization as a whole significantly more agile.
2) Data Analytics Beyond The IT department
IT departments are becoming more mission critical with every business undertaking involving some degree of computer and network need and/or use.
Data analytics are no longer solely the domain of the IT department. The business as a whole benefits from integrating data platforms and introducing visualization boards.
This allows individual departments to contribute meaningfully and introduce self-serving tools. Different teams within the organization are able to use their devices at any level to analyze information.
Developing self-service BI (business intelligence) models is not a foreign concept with the number of technological advancements that can be easily integrated into daily business operations.
In turn this allows line employees to deduce patterns from observing data, introduce context to these patterns and ask for collaborations with other departments to maximize output value.
This renders traditional BI delivery models obsolete and offers businesses a better opportunity to develop agile practices and manage data volumes/channels internally.
3) A Bigger Role for AI, ML and NLP
Moving through 2021 will see stronger data modeling and automation. As a result, actions are more concentrated and results released with pinpoint precision allowing businesses to understand developing market trends early on.
NLP or Neuro Linguistic Programming allows colloquial language to return valid responses when used in a query.
With broader application, social media sentiments can also be recognized and classified based on meaningful results an organization is looking for. This also gives brands an opportunity to pivot strategies and campaigns mid-way without waiting on the concept to fail.
The elevation provided by NLP use under AI and ML terms offers customers easy interactions with the business and is more likely to turn complicated information into business intelligence. This also speeds up the time needed for analysis and moves other processes along quickly.
4) Personalization Sits at A Forefront
2020 proved no matter what the shift in supply is, consumers will push demand if they see the need for it. This works in both healthcare and retail perspectives.
With more people moving to digital platforms to consume content and the development of modern day eCommerce, driving sales means giving your customers a unique, dynamic and meaningful experience with your digital storefront.
Businesses this year are going to aggressively focus on delivering a strongly personalized experience to their clients. This could start right at the beginning of the customer's buying journey.
For companies looking to draw in or expand their client base, 2021 is a year of personalization driven strategy. This must include planning to maintain customer engagement consistently.
5) Expanding the Customer Data Platform Landscape
A CDP or customer data platform is an intelligent and complex data hub allowing for information from different sources about customers to meet at one unified space.
When a customer interacts with a business, especially virtually, they leave information trails based on where they came from, what they look at offline, their frequently visited eCommerce platforms and others.
The CDP popularity continues to grow in 2021. CDPs can also be used in a B2B context allowing for more organizations to jump on the bandwagon.
As online transactions become the norm, data flows are consistent within the enterprise. A CDP offers a holistic perspective of a customer's journey with the business and offers a secure storage base for information from various sources.
The CDP offers structuring to this information and helps businesses identify their customers profile and in turn produces better engagement and longer standing relationships with clients.
Actions around the pandemic have pushed more users worldwide onto digital platforms to meet personal and business goals. In order to best harness potential in a virtual space, understanding the direction of activity is critical.
Businesses investing in artificial intelligence and machine learning are able to run at higher capacities, meet customers' needs faster and offer techniques to maneuver business activities with ease.
For organizations that want to stay ahead of the curve, introducing these techniques now and optimizing them with time will create a strong position as front runner within the market.
To know more about Data Analytics Services or Data Engineering Services get in touch with SG Analytics.